Are you struggling with social media or website engagement?
Is the cost of commercial advertising outweighing the benefit?
Do you need to increase attendance and interest in your corporate events?
Brands everywhere are seeing incredible results from simple and creative live streaming campaigns for business.
Imagine if everyone could view your new product launch or demonstration live.
Imagine if your real estate auction is streamed to a global audience in real time.
With our first-class and affordable live streaming for businesses, they can.
Every business can benefit from a live stream campaign.
Engage and interact with a global audience, generate additional revenue streams, increase brand awareness, inspire consumers to act.
Stream to multiple sources; YouTube, Facebook, Twitter or your own webpage. Name your digital platform

Moderated live interaction with data feeds straight from social media

SMS and live chat integration into your live stream

Graphic overlays and media playback

Leverage pay per view streaming, ads and sponsorship options to monetise your stream

Post-live editing services to create the perfect memento, or powerful marketing content

Still shots of perfectly captured moments within your live video content
Imagine. Create. Stream. Celebrate. That's what we do.
Facebook Live Auction another world first
"We identified early on that social media was going to change the way people consume editorial and research property," Mr Catalano said.
"Facebook Live allows us to show an auction nationally and internationally, taking the auction experience to the palm of our audience's hand."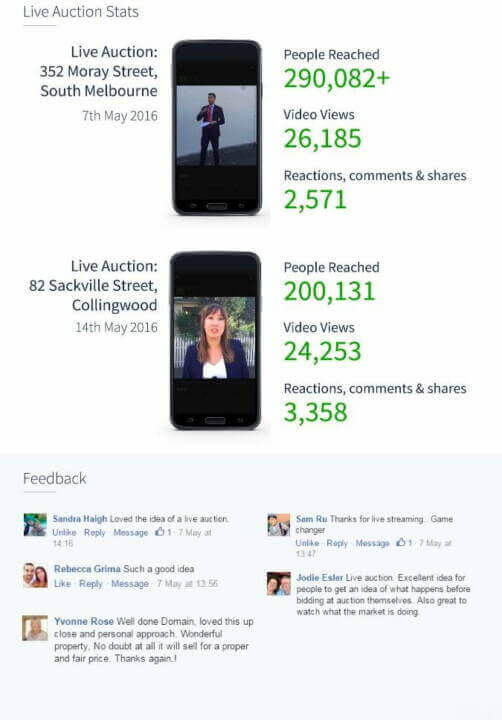 Corporate Live Streaming: Conferences & Seminars
Share your event live in the digital arena and achieve a record attendance.
With Jum Media on your team, everyone can attend your conference or seminar in real time and in stunning quality. Venue, distance and cost are no longer a concern.
When you've got something to showcase…stream it!
Stream keynote speakers, workshops or live panel discussions. Allow your remote audience to interact in real time.
Consumers gain trust in your event through remote viewing. When they know what to expect, and can experience the value, they're more likely to attend future events in person.
Choose your platform, choose your audience. Monetise your stream or simply build awareness.
"Event organisers are reporting an increase in actual attendance at their subsequent events following a live stream campaign."
Our live streaming services don't begin or end with a shoot. We're videographers, marketers and business people.